I am a behavioral biologist whose work focuses on the behavior, ecology and endocrinology of social behavior in wild primates. My research uses a multidisciplinary approach that combines the methods of behavioral ecology and endocrinology to better understand the sources and consequences of variability in primate social behavior across individuals and groups in natural populations.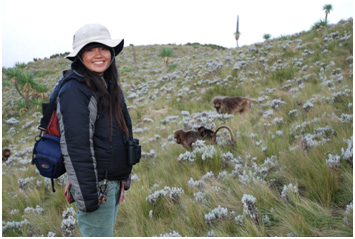 Much of my research focuses on the endocrine correlates and fitness consequences of variation in the mother-offspring relationship. I am also interested in the development of sex differences in behavior and in the adaptive significance of affiliative bonds and dominance status in primates. In my research, I combine non-invasive methods of behavioral data collection with fecal hormone extraction from habituated, known individuals. Much of my past and present research focuses on wild populations of monkeys in East Africa, including in Kenya, Rwanda and Ethiopia. By studying primates in natural settings, I can monitor the interactions between hormones, health and behavior within the selective environment in which these interactions evolved. In addition, non-invasive hormonal sampling allows me to both assess potential determinants of behavior and to evaluate potential physiological consequences of behavior without disruptions to the animals' daily lives. My research aims to shed light on and provide new insights into the ecological and physiological processes that underlie social behavior in humans and nonhuman primates.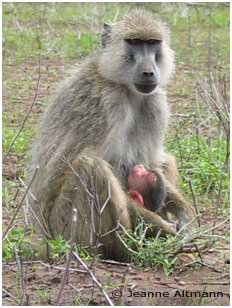 I was born in Saigon, Viet Nam in 1976 and immigrated with my family to the US in 1982. I grew up in Brooklyn, NY, and in 2000 earned my Bachelor's degree at Barnard College, majoring in both Anthropology and Biology. In 2006, I earned my Ph.D. in Ecology and Evolutionary Biology from Princeton University where I studied under the supervision of Dr. Jeanne Altmann. For my Ph.D., I lived in a tented camp at the base of Mount Kilimanjaro for a year and a half, studying the causes and consequences of variation in mothering behavior in the wild yellow baboons (Papio cynocephalus) at Amboseli, Kenya. The Amboseli population of baboons has been the subject of intensive research by Dr. Jeanne Altmann and her colleagues for over four decades and much is known about their behavior, ecology, physiology, and population genetics. Before joining the faculty at CSUF, I served as the Director of Cleveland Metroparks Zoo's Wildlife Endocrinology Laboratory where I oversaw a research program that examined hormone-behavior relationships as a means of enhancing the reproduction and welfare of wildlife living in zoos and in the wild.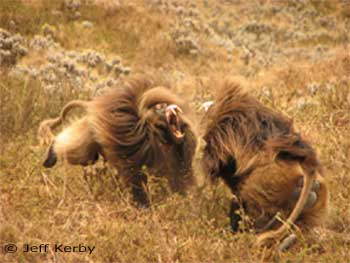 Currently, , I am investigating the behavior, ecology, and conservation biology of gelada monkeys (Theropithecus gelada) at Guassa, Ethiopia in collaboration with Dr. Peter Fashing. Geladas are unique among primates yet surprisingly little is known about them relative to other terrestrial primates like baboons, vervets, and macaques. In addition, my study site – Guassa – is an unusually ecologically pristine alpine grassland in north-central Ethiopia that has been conserved by one of the few surviving ancient indigenous conservation initiatives on the African continent. My current research on geladas at Guassa focuses on (a) female reproductive ecology, (b) intersexual conflict, and (c) disease ecology. For more information about my research on geladas visit the Guassa Gelada Research Project website. I welcome undergraduate and graduate student participation and collaboration on my research in primate behavioral ecology and endocrinology.
I teach a variety of undergraduate and graduate courses in Evolutionary Anthropology, including Introduction to Biological Anthropology (ANTH 101), Primate Behavior (ANTH 301), Hormones and Behavior (ANTH/BIOL 456), and a graduate seminar called Sexuality, Reproduction and Parenting in Humans and Other Animals (ANTH 504T). In addition, as a faculty member in the graduate program in Environmental Studies, I teach a graduate core course, Environmental Issues and Approaches (ENST 500).
Media Coverage of My Research
Switek, B. 2011. "What death means to primates". Wired magazine science blog.
Marshall, M. 2010. "Bereaved animals grieve – if their lifestyle allows it". New Scientist, issue 2791, December 2010.
Quirks & Quarks. 2010. "Monkeys munch on locust lunch". Canadian Broadcasting Corporation science news radio program featured story and on-air interview with Dr. Peter J. Fashing. 22 May 2010.
Bourton, J. 2010. "Monkeys filmed feasting on locust swarm in Ethiopia". BBC EARTH NEWS
30 April 2010.
Landis, B. Y. 2009. "Baboon moms pick up 'boy toys'". Orange County Register 14 August 2009.
Matt, W. 2009. "Female baboons exploit chaperones". BBC EARTH NEWS 16 July 2009.
PH.D. Thesis
Nguyen, N. 2006. Endocrine Correlates and Fitness Consequences of Variation in Mothering Behavior in Wild Baboons (Papio cynocephalus). Ph.D. in Ecology and Evolutionary Biology, Princeton University (PDF)
Department of Anthropology
California State University, Fullerton
800 N. State College Blvd.
Fullerton, CA 92834
Office: McCarthy Hall 063
Phone: (657) 278-7144
Fax: (714) 278-5001
E-mail: nganguyen@fullerton.edu